Winter has arrived in Delhi-NCR, which means we're in for months of freezing temperatures, icy winds, and frosty surfaces. Unfortunately, this might mean spending less time outside and more time inside. While some people prefer this, it is more difficult for dog owners and their furry best companions to stay home all winter. Dogs are naturally energetic creatures, and their whole well-being depends on being active and moving. When our canine companions are forced to stay indoors and generally inactive throughout the winter, it can have a negative impact on their physical and emotional health, resulting in weight gain, muscle and joint stiffness, behavioral disorders, and even despair.
Even during the chilly, dark months, we at Bark N Walk want your dog to be healthy, content, and active. Today, our team will provide some advice on how to prevent wintertime boredom and inactivity so that both you and your dog may stay active and entertained. To learn more about our dog boarding, call or click.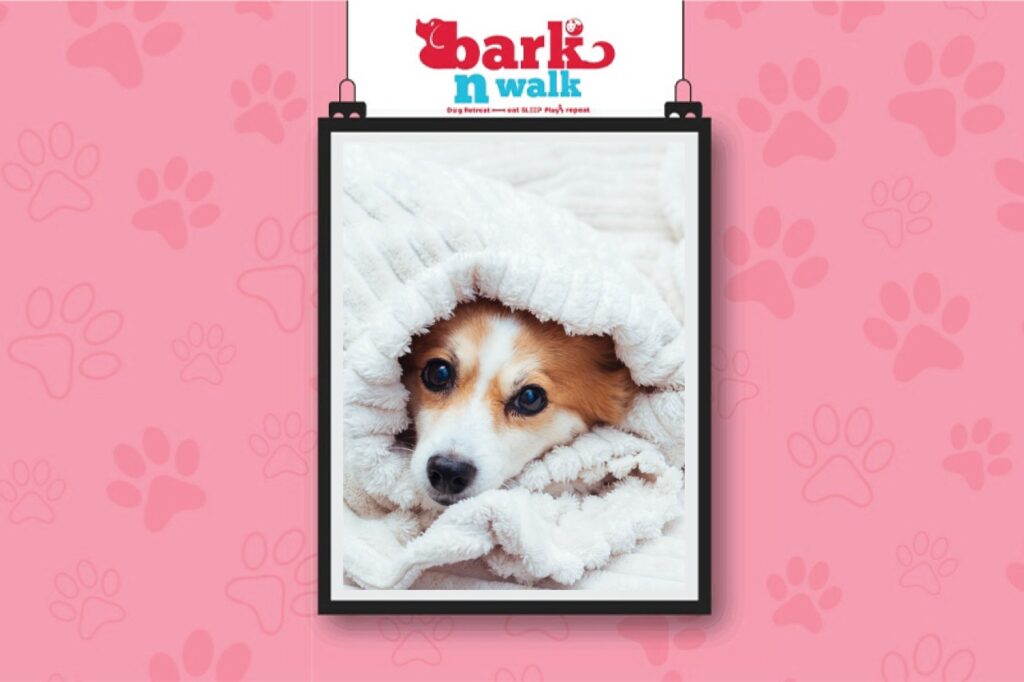 Winter Boredom: 3 Tips to Beat It
1) Continue on Foot
Maintaining your dog's walking schedule is crucial, even when it is chilly and snowing outside. Walking them, even if just for 20 minutes, is a terrific way to keep their heart rate up, their mind active, and their muscles and joints healthy and flexible. They need to exercise frequently every day. Consider dog boots if you're concerned about chilly surfaces that can irritate their paws. If you're concerned about the chilly weather, long-haired dogs often adapt well; however, short-haired types may require some additional warmth. Take a look at a cozy dog coat! These are made to shield them from the weather and keep them warm.
2.) Visit a dog park
Dog parks are fantastic settings for dogs to interact with other canines. They can also play hard, run hard, sniff fascinating odors, and simply be dogs. In the event that there aren't any other dogs around, it's a good idea to bring a tennis ball launcher or frisbee. They may still play fetch in this manner, which will improve their mood and provide them with enough activity for the day.
3.) Engaging Toys
Having a lot of engaging dog toys on hand is a good idea all year round, but winter is particularly beneficial. The purpose of puzzle toys and treat-dispensing toys is to stimulate your dog's intellect and body. Additionally, they offer fantastic inside entertainment on days when it's just too chilly to go play outside. Squeaky retrieving toys encourages engagement and play between the dog and owner while playing in the snow in the backyard or park.
Take A Winter Vacation
Sometimes it's wonderful to take a few days off from everything. An excellent method to spend a few days escaping the bitter weather is to take a winter vacation. Make a brief excursion by car for yourself. Go somewhere warmer or where it doesn't snow as much as it usually does at this time of year. and trust us to take care of your puppy dog at our dog boarding, which provides all it needs!
Dog Boarding at Bark N Walk
The secret to choosing the finest dog boarding facility is to set up a meeting with the facility before entrusting your pet to them. When there, take a tour and purchase the best items to determine the caliber of the facility. Interacting with the dog owners, looking over the dog houses, and speaking with team members may all help you assess how well your facility is running. These are only a handful of the many benefits of boarding dogs. All of us should consider choosing a dependable vendor for our dogs. Over time, dog boarding services have proliferated more and more. Choose a high-quality facility staffed by individuals who actually care about dogs if you want to profit from dog boarding. There are a number of actions you can take to ensure that your dog receives excellent care while boarding. For every one of them, Bark N Walk offers the greatest amenities.