When you want to spend some quality time with your pet or if you are a dog lover and want to go somewhere to meet furry friends and have some good cuddly time, a dog café is your go-to place. Dog cafés have a dedicated dog space to play around, and they have a special dog food menu that is best suited for your pet. Here are some of the dog cafes in Delhi-NCR you should go to when you want a paw companion to spend some time with.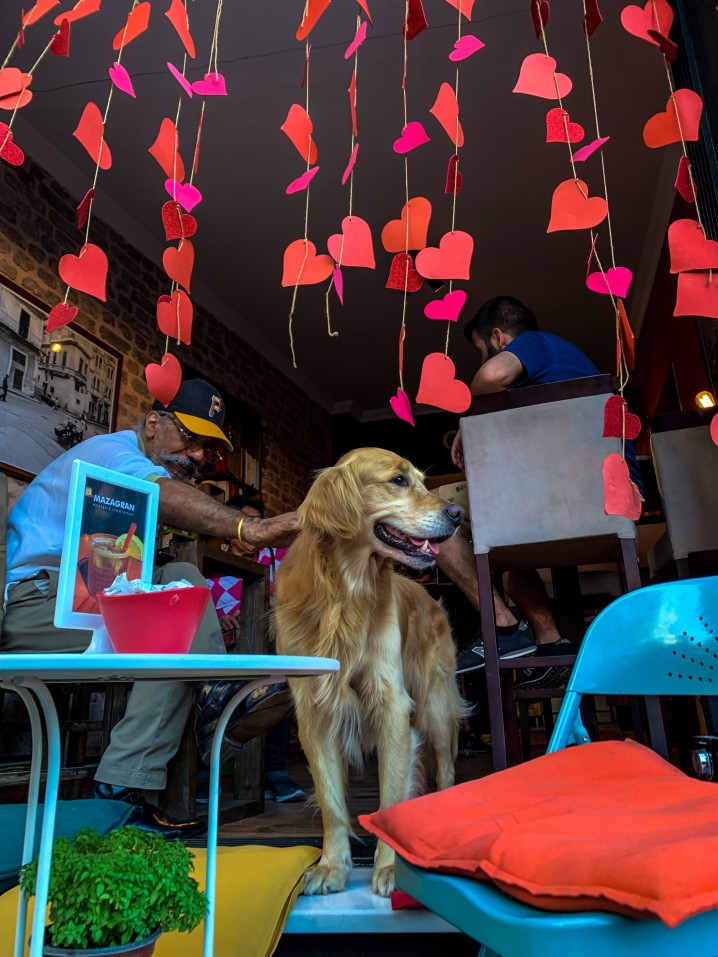 1. Pawsome café, at Bark n walk, Delhi
Bark n walk is an organization in Delhi which provides various services like dog park, dog boarding, dog day care and training. They also have a dog café named "pawsome café" which you must visit with your pet and close ones.
They offer hygienic quick bites that ensures your doggo and you, feel the treat. They have an open sitting and a mouthwatering menu which includes Chinese, pasta, sandwiches, hot parathas, maggi and other delicious snacks. They also have food options for your pet as well, like mix veg rice bowl, rice bowl with chicken broth with an option of custom dog food which is given according to your preference. With food you can enjoy within the lovely ambience and visit their dog park which always has furry friends playing around.
Address: Before CISF Camp, 118/8, Behind New Bloom Nursery, Carterpuri Rd, Bijwasan, New Delhi, Delhi
Timings: Monday to Friday (7:30 am to 7:30 pm)
Saturday and Sunday (9:30 am to 6:30 pm)
2. Puppychino Dog-Friendly Café, Delhi
Puppychino is a lovely little dog-friendly cafe that is in Shahpur Jat. Being Delhi's first dog cafe, there is a lot that you could anticipate from this place. If one nice day, your furry pal and you are looking to spend some stunning moments collectively then, this should be it. This cafe welcomes dogs, different pets, and gives a large menu that is ideal for you and your doggo. Apart from the eating location, where you can even work, they also have a separate area the place you should play with them cool, right? They even have boarding and spa services for your little one so, don't worry about their pampering session.
Wondering what's on the menu? For humans, they have pasta, pizza, cheesy garlic bread, shakes, and more. For doggos, they have Woofsome Cupcakes, Toothsome Pancakes with ice cream, plain poultry breast, and of course, a lot more. Oh, and they can even arrange for a birthday party at their puppychino farm and can make a cake for your pet just let them know in advance. Also, you can head here to play with their pets if you do not have any. Bobo, Simba, Moose, and Kiara will be more joyful to host you.
Address: 119, Shahpur Jat, Siri Fort, New Delhi
Timings: Monday to Sunday, (1:00 pm to 8:00 pm)
3. Fur Ball Story, Gurugram
Along with making technological advancements, we are also struggling with heavy schedules and fairly long working hours. As a result, we are fraught with stress and go through bouts of anxiety. Here is a modern way Fur Ball Story helps you manipulate your stress and anxiety- Puppy Therapy! Fur Ball Story is the first agency of its kind in India that believes in combating stress through a human-dog interaction. They intend to do away with nervousness and substitute it with peace and happiness in an extraordinarily corporate putting of the world.
They have a multi-cuisine cafe in Gurgaon with a menu for your pet pooches also! It houses a pool as well, for you and your puppy pals for Hydrotherapy. The corporation also ambitions to provide care to the underprivileged puppies and work closer to enhancing human and dog relationships with the aid of decreasing animal abuse. They also provide canine sitting services so that you can depart your pooch in great care! And if you want a furball for a photoshoot or an advertisement, delay no further! The team will assist you with all your desires with a skilled dog.
Address: 31, Golf Course Road, Sarswati Kunj II, Suncity, Sector 54, Gurugram, Haryana
Timings: Monday to Sunday, (12:00 pm to 8:00 pm)
4. Bark Street, Noida
Bark Street is located ten minutes off the expressway highway in Noida's sector 104.Bark Street also serves as a co-working space they grant you limitless high-speed internet and offers an array of services for your pets. These include puppy daycare, canine grooming, canine walking, canine training, 24/7 domestic vet visits, and pet therapy. All these offerings are performed by skilled experts. Have a puppy problem? In all likeliness, they can clear it up or connect you with someone who can.
It's an expansive space, the place you can simply chill, relax, and even make new friends not confined to the human species, play, and talk about your dogs. They additionally organize dog-friendly events and provide catering services. Now if you don't have your pup but still revel in being around the beautiful creatures, you may want to nevertheless come in for a play with resident doggos Doobie the Shih-tzu, Bunny the Golden Lab, and AJ the Chocolate Lab.
Address: Plot no. 237 M, Hazipur, Sector 104, Noida
Timings: Monday to Sunday, (12:00 pm to 10:00 pm)