Wouldn't you love to see your pup is roaming freely & happily without any leash, on the clean green grass with the wind blowing on his face? A dog needs an open space to run, play and be himself. Dogs take their time to adjust to a new place, but only when they really enjoy themselves and feel safe. When you are following the same routine and going to the same park for a walk every other day, don't you feel confined sometimes? Dogs feel it too. With us, your dog will experience like he is on vacation. 
Our dog park is clean, green wide open yet fenced for their safety so that doggos can do what they without any hindrances. We have loving  dog caretaker professionals who assist you when you are playing with your dog. They play with them, give them treats, and are very careful so that dogs don't get hurt especially when they are playing with other paw buddies as they do get excited at times. They keep an eye on all the dogs and know exactly what every little fur is doing. 
Generally, all dogs interact with each other, and they start playing together like it's the best time of their lives. Some dogs are temperamental, so they are kept on a leash until they are calm and are ready to be part of the environment in the dog park. There are other open yet fenced areas to keep aggressive dogs separated from the hyper or friendly dogs.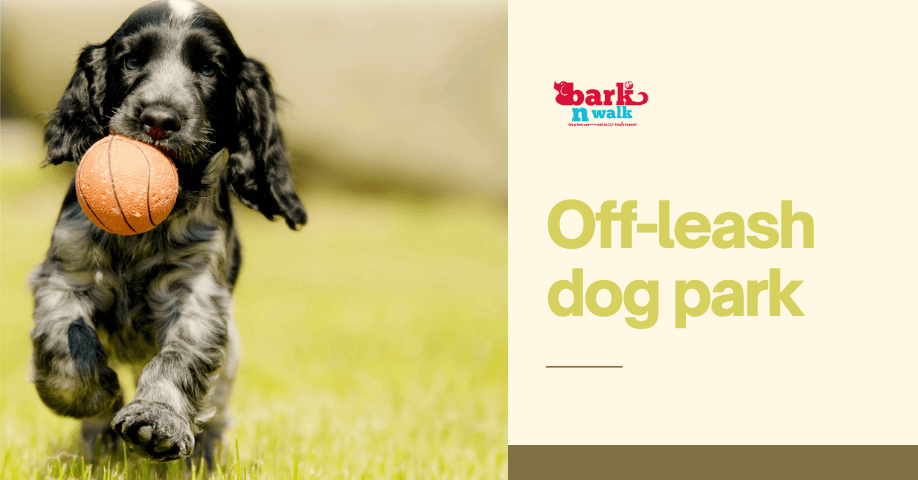 There are different types of toys available for dogs to use and play with. Chew toys, balls, ropes, discs, tires, squeak toys, and much more. Our dog care-taking experts play engaging games with their furry friends and it's not just the pups who feel delighted even the caretakers really enjoy with them as well. They play games like a ball, fetch and frisbee together. The dogs would climb, roll down the obstacles, and be totally carefree. Whenever a dog grabs the ball or fetches, he is rewarded with a dog biscuit this is done at regular intervals so that the dogs feel like the games are a real deal, at times you would feel as if the dogs were competing but, on the inside, it is all just fun and games.
The dogs might feel tired or lazy after they have had their fair share of fun in the park and would want to rest or take a nap. A doghouse is available where dogs can take a pause and relax. It is mandatory for dog parents of every dog to be present in the dog park when their dog is playing. For the favour of all dogs & dog parents, every dog parent is responsible for their own dog's behavior. 
We know that every dog listens to his/ her parents but at times there may be an incident when a dog snaps or attacks another one or they may hurt each other unintentionally. In such cases, the dog parent is liable to pay for the medical expenses of the dog their own doggo has hurt. All dogs are welcomed in the dog park to run, play, and have unleashed fun. But no aggressive or untrained dog can be unleashed or unattended by dog parents at the park. The dog park can't be allotted to just one dog if the is unfriendly or parents want it for their dog/dogs only, during peak hours.
The timings of the dog park are 6:00 am to 7:30 pm. Dog Park fee is Rs 250/- up to 2 hours. 1 person + 1 dog is Rs 200/- up to 2 hrs, on the second dog. Rs 100 on the 3rd dog or more. Rs 100 if any additional person is accompanying. We have the facility of a water sprinkler for Rs 150 up to 15 Minutes. If you feel your kid can enjoy more in water, you can let us know. This facility is optional because not every dog is water friendly. Generally, almost every dog enjoys in the water and all the dogs play together.
At last, we just want every dog parent to know that your little one is safe and secure when he is under our care. But unlike our other services like daycare, grooming which doesn't require a parent present in the dog park the presence of the parents is compulsory. We are sure even you wouldn't like to miss the fun.
Let your dog fully enjoy the time when he is off the leash in the PawSome Park at Barknwalk.