You, like every other dog owner, want your dog to be well-behaved and not do anything inappropriate. However, your dog's chewing problem can sometimes become destructive.
Apart from dog grooming, when it comes to bringing a new puppy into the household, one thing that most new pet parents aren't necessarily prepared for is the puppy chewing on everything. Those who have adopted an adult dog who is always chewing are in the same boat.
It can be especially aggravating if your new furry family member decides to use your shoes, furniture, or other household things as personal chew toys. It can be difficult to figure out how to stop a puppy from chewing or how to stop an adult dog from chewing without becoming frustrated.
Reasons as to why your furry member is chewing everything
Dogs need something to chew on during their puppyhood since their teeth are becoming painful as they grow. Chewing something can provide them with some relief and make their gums feel better. Teething in dogs can last up to 6 months. Other reasons may include,
Your dog hasn't been taught not to chew on items that aren't supposed to be chewed.
They're bored out of their minds.
Your furry fellow may be having separation anxiety.
Something has posed a threat to them.
They want your attention.
However, when you go home from work, you don't want your dog's teeth to leave marks on the furniture, shoes, clothes, and everything else. It might seem a lot of work since you already have dog grooming on your to-do list.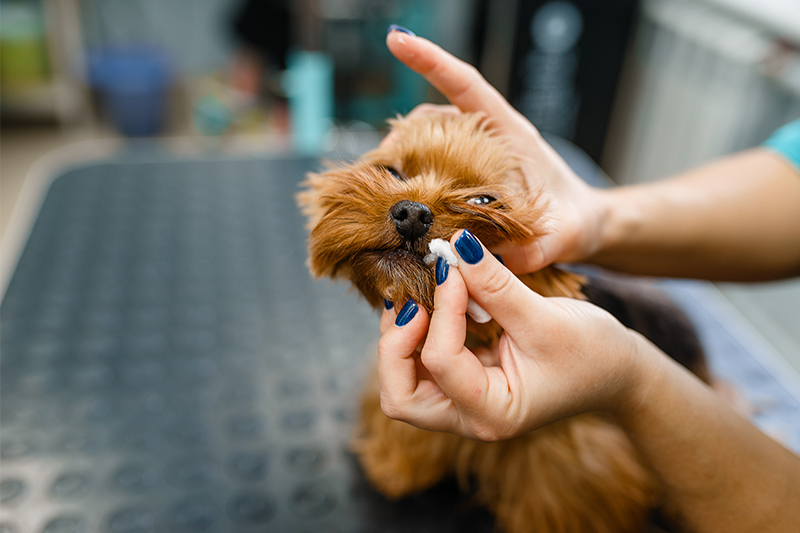 Worry not, here are few tips for pet parents that can save the day
Make a habit of maintaining the safety of your belongings. Items such as clothes, shoes, and books, should be stored at a safe distance from your dog.
It is always safe to teach them what is and isn't chewable. Your dog would not be able to tell which items are chewable unless they are taught. You must distinguish between their chew toys and household things.
Invest your time while your dog is getting trained. Without your participation in their training, your dog would almost certainly not acquire it.
Engage in daily exercise with your dog. It will prevent your dog from getting bored.
Don't yell at your dog if you discover them chewing on something they shouldn't. Try to distract and give them a chew toy instead.
In exchange for the object in their mouth, give them treats. This would lead them to believe that letting go of anything when asked can result in a tasty reward.
If all this doesn't help, we are here to your rescue.
Bark n walk pet training services
When you're worried that your furry fellow is not on board with the lessons, "PawSome Homes" by Bark n Walk will always be there to make things easier for you. We are just one call away, therefore never hesitate to avail the best of our services. Our Bark n Walk facility is a second home for your doggy. Our trainers treat your dog with love, extreme care, and devotion. The dog caretakers at Bark n Walk treat the dogs with kindness and tenderness. Dogs get the human attention they crave and deserve.
We not only provide nutritious meals and entertainment but also provide massages and daily combing similar to what you would do at home. Dogs are never chained and have plenty of room to move around in their cottages. Veterinary doctors and para veterinarians are on call for any medical emergencies.
Regarding dog training, we have two separate packages: basic and advanced level. In the basic packages, our trained professionals will teach fundamental gestures such as sit, stand, fetch, shake hands, salute, etc. In the advance option, your furry partner will be given potty training, taught how to heel, and other hard activities. They will also be taught how to remove bad behavior. Appropriate lessons will be provided keeping in mind what your puffy fellow loves and desires. Your furry fellow will spend the day with the best instructors providing them the best training your dog requires.
We provide a safe, stress-free, and hygienic environment for your dog, as well as personalized attention, big play areas, and high-quality nutritious food to provide your dog with the best mental and physical enrichment possible. We offer a variety of economical 24-hour boarding packages based on the duration or length of stay, breed type, age, and other factors. Check our services page on dog training for more information. Also, check our other grooming and boarding services available on our website.