Grooming is an essential element of a dog's overall wellness. It not only helps your dog with any nagging concerns but also provides much-needed bonding time. Bathing and grooming your dog not only keeps them clean and healthy, but it also keeps you and your house clean and healthy. Even dogs with short, low-maintenance coats require grooming, washing, and nail cutting on a regular basis. Clipping and haircutting may be required for a long-haired dog. While it may appear that your dog is taking care of those requirements on his own, attempt to establish a basic grooming program – brushing, washing, clipping, and so on. Dog Grooming at home is very easy and simple but can take up lots of your time, So, if you want your dog to be happy but don't have the time, Bark n Walk is here to help. We provide everything from dog boarding to dog grooming.
Some tips:
These DIY pet grooming suggestions can assist you in starting a dog grooming at home. They'd also be useful if you can't afford pricey professional groomers or if circumstances like COVID-19 lockdowns prevent you from visiting them.
1. Water – Staying hydrated, both yourself and your dog can help prevent heat strokes and promote overall health.
2. Brushing your dog improves blood circulation, eliminates superfluous hair, and allows fresh, cold air to enter the coat. Also, keep an eye out for ticks while brushing.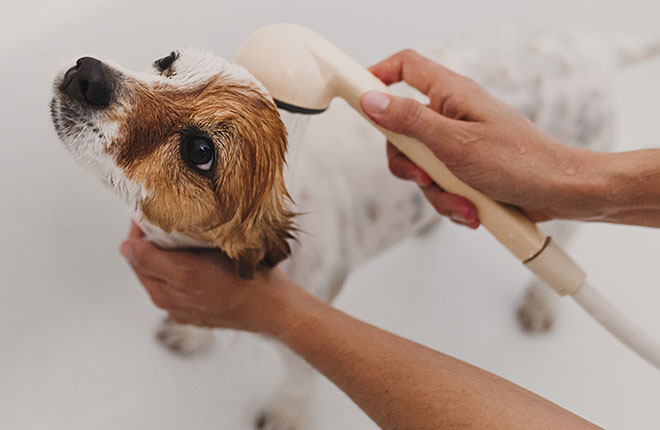 3. Bathing your dog is as much a function of her coat type as it is of her extroverted personality. Bathing your dog at least once every 2- 3 months is OK, but if your dog spends a lot of time outside or has skin concerns, you may want to bathe him more frequently. Keep an eye out for tear stains around your dog's eyes, and make sure to thoroughly rinse your dog's fur coat to avoid leaving any shampoo on the skin.
4. Drying – Help your dog dry himself with a towel. You may also use a blow dryer, but make sure it's on low heat and not aimed directly at your dog.
5. Massaging – Massaging your dog gently boosts blood circulation, enhances bodily functioning, and relieves tension by calming him. It also aids in the speedier healing of strains and sprains.
6. Bacteria and plaque-forming foods can create plaque build-up on your dog's teeth. This can cause gingivitis, receding gums, and tooth loss if it hardens into tartar. Brushing your dog's teeth on a regular basis, coupled with a portion of nutritious food and lots of chew toys, may help keep her mouth healthy. Cavities in the mouth can lead to tooth loss.
7. Eye Care – Look for any cloudiness or inflammation in your dog's eyes that might suggest a health condition. The region around your dog's eyeball should be white, and his eyes should be clear and brilliant. If you observe anything unusual, please contact a veterinarian as soon as possible.
8. Ear Care – Gently clean your dog's ears with a cotton swab, but never introduce anything into the ear canal, as this might cause an infection or harm. Check your dog's ears for any bad odors or wax; if anything appears to be out of the ordinary, contact your veterinarian!
9. Nail Care – If your dog's nails are clicking or getting stuck on the floor, call the Clippers. Your dog's paws may be irritated by bent nails.
10. Paw Care – Make sure your pet's feet are clear of sores, infections, and foreign items on a regular basis.
Your little one deserves all of your love and care, and why not indulge them with dog grooming at home? You may also choose Bark n Walk for other services; our goal is to simply make your kid happy!